The Shamanic Yogi
We are working on dates for this 7-day program in Mexico now! Apply today (it's free!) and lock in your position and Early Bird Pricing!
Embody the Purest Version of Your Self, Full Time!!
Exclusively for our western audience,
The Shamanic Yogi Programs

are artfully crafted to bridge the gap between worlds during a week long Integration Training. Join us for an an amazing journey as we come to better understand the "mystical experiences" we've had over the past years and learn how to incorporate those newly perceived realities into our minds and lives holistically.
We are excited to bring our training from the east to our home in the west!  These trainings will explore advanced practices and observe the connection between the ancients from many parts of the world.  Specifically looking at the "experience" of shamanic ritual and the "philosophical practice" of Yoga's most advanced method, Tantra, we will explore this reverse parallel and trace the steps back and forth until meeting at the center where all expression and every possible moment is perceived as a perfect and exquisite expression of Consciousness.
This training is designed for practitioners with an existing Yoga or Shamanic practice who want to learn to perceive and experience the infinite connection as a constant reality in their life. Join the community and learn how to deeply integrate this knowledge into your mind and life to allow you to walk the talk of "being One with all" and leave empowered and in love.
The perfect place for a retreat! A private, luxurious beach guest house.
LEARN
The symbiosis of Shamanic and Yogic practices proves to be an exceptional method to awakening to life's reality and to efficient transformation. Combining these two ancient practices allows you to have the experience that Yoga points to thorough Shamanic ritual and to understand it logically through the attentive and contemplative practices of Yoga. We will work closely with both as we aim to bring your mind and total awareness to the NOW moment while simultaneously contemplating its ultimate truths.

Our workshops, classes and activities will fill the schedule each day during the week and are designed to empower and expand your body and being. Our morning and evening Asana classes will be led by Alena - her dynamic Vinyasa & Yin classes will open the door to deeper understanding of our structural foundation and how it relates with optimal alignment and integration off the mat. These complete Raja sessions will enliven the senses and bring us to a state where we can easily find our meditative center and enlighten the body, heart & mind.

Meditation will play a role in our week as we learn to let go of our thoughts and really experience our inner being. Using sound, fire, dance, sound and focus we will explore various techniques to quiet the mind and come to recognize the stillness and peace that can easily become our normal state.

Yoga and Shamanism both aim to bring awareness, release misconceptions and open the mind and heart to deeper truths and all of our workshops are designed to do exactly this. One of the more powerful experiences is the Shamanic Steam Cleansing - Temascal. A strong experience for deep cleansing and releasing guided by a local Mayan shaman. We will sit in silence inside the earth dome letting the heat, sweat and chanting of our guide cleanse us physically and emotionally.

Our shamanic breathwork and sound sessions will take you on journeys deep into your Self where you'll have great opportunities to safely uncover the aspects and patterns of your life that do not serve you. As a like minded group we will lend support to each other and create the perfect environment for releasing fears and embodying our purest expression!

As teachers our mission is to help you dissolve the barriers created between "practice" and "mastery".  We are One, we already know this… NOW, LET'S LIVE IT!  All of our classes and workshops are designed to help you take a profound look inwardly and at the conditions of the mind- our goal is to help you recognize the falseness of these conditions and let them fall away revealing your ultimate Self.
An amazing shala with the perfect view awaits us for
classes, workshops, discussions, dance and more!
REST
Meeting in the paradise of the Mexican Riviera we will take advantage of beautiful Amansala Eco-Resort between the pristine blue ocean and the emerald green tropical forests. Amansala (which means "peaceful waters") sits just outside the town of Tulum where we will enjoy the private, quiet setting of a property built specifically for retreats like this.

Amansala consists of two properties, Grande and Chica, that are just 2 minutes apart. A tranquil setting that embodies community yet provides space to relax on your own terrace or  the beautiful sunset lounge where the jungle stretches for as far as the eyes can see - perfect for star gazing, catching the sun rises & sunsets or soaking up some warm sun. All cabanas are equipped with private bathroom, sitting areas and terraces. Rest is tranquil with the soothing sound of the ocean and wake up feeling rejuvenated & refreshed. Rooms are light, airy, spacious & beautifully styled with an Eco-Chic feel.

The restaurant's menu is designed to nourish, cleanse and fulfill. Providing lots of fresh, seasonal fruits and vegetables, hand made, stone ground tortillas, seeds, jicama, green smoothies and more your three daily meals The Hotel & restaurant staff, spa therapists and  in-house coordinators will be at your service to provide everything you need and more!
&nbsp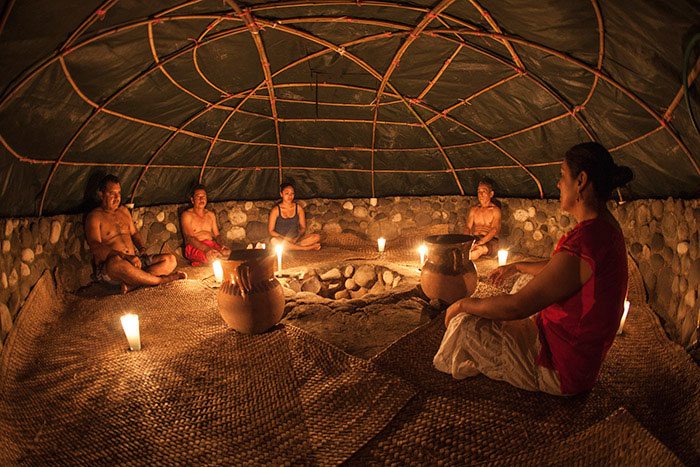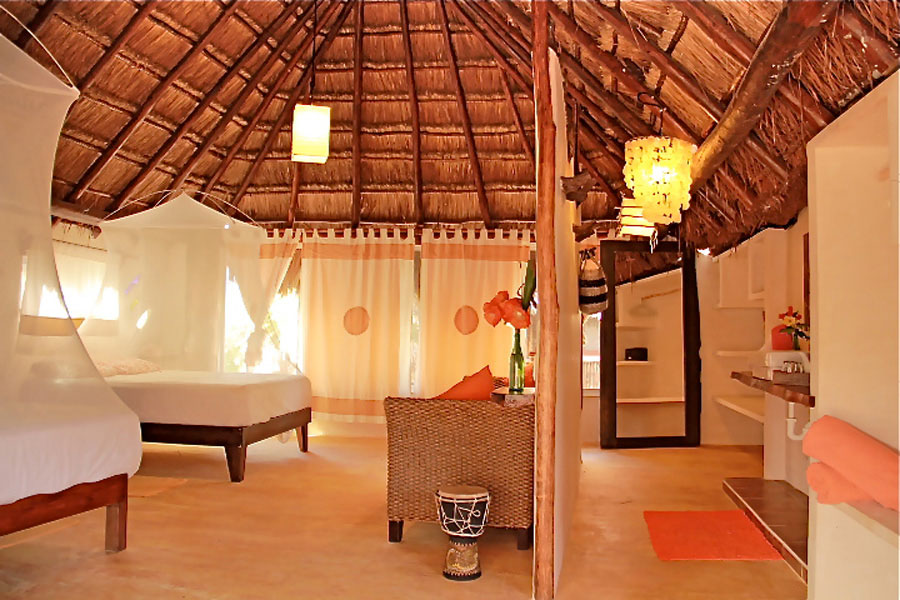 EXPLORE
Yes, this is a program designed for big development, but it doesn't mean we won't be having fun! What good is becoming more deeply aware of this reality if we're not going to dive into the joy of it?! We'll be taking full advantage of one of the most beautiful places in the world.

Our classes and workshops will be a big part of the schedule but we will also enjoy activities of the surrounding areas. We  include a Temascal session guided by a local Mayan shaman that will leave you feeling invigorated, powerful and renewed! A two hour session sitting in an earth pod heated by fire while the guide chants indigenous song helping to cleanse the body and mind of impurities. We will also trek the jungle to arrive at the famous Mayan ruins of Coba ascending to the top of the pyramid and looking over the sea and canopy of the jungle.

Our entire program is optional, of course, and if you feel like taking a day to explore there is a lot the region has to offer! There will be a couple days in the week where you will have the opportunity to set out in whatever direction calls you. Often participants group up for an adventure and find themselves swimming in cave pools, exploring more temples or Stand Up Paddle Boarding. There's over 7000 cenotes to swim, snorkel or dive in within the Yucatan alone; conditions will be excellent for scuba diving; and Mayan ruins dot the coast (Chichen Itza is just up the road) for another fun excursion!
Program Highlights
 

Initial personal session prior to arrival

Accommodation for 6 nights + 3 Meals/day

Sunrise Tantric Meditations

2 daily Asana & Pranayam classes

Daily Jnana yoga and integration discussions

Advanced meditation practices

Tibetan bowl meditation & sound journeys

Jungle trek to Coba Mayan Temple

Temescal Shamanic Ceremony

Dynamic Breathwork Sessions

Onsite Spa Availability

Myofascial Release Session

Dance Time

Beach Bonfire / Star & Sound Bathing

Authentic Communication Workshop

Vital Pranayam Integration

The full availability of Yoga therapists
during your entire stay 7am-9pm