The Science of Yoga & Self Realization
Completed! -- Stay tuned for our next program in Ibiza, Spain! SVARGA LOKA RESORT UBUD, BALI AUGUST 12-16, 2016
Awaken the Master Within
Take your knowledge of Yoga to an entire new level in this all-inclusive 5 day training exploring the holistic method of Yoga and aiming to integrate the belief of Unity & Oneness into your life full time! We will learn advanced techniques of movement, breath & meditation and will focus on the lesser known method -
Jnana Yoga (The Yoga of Knowledge)

to work towards total acceptance and celebration of every expression in life.

This immersive program is full of classes, workshops, one-on-one therapies and more to help you take the next step in your practice and integrate your inner peace into your outer world. A perfect immersion for teachers and experienced practitioners whose aim is to fully embody the purest version of themselves full time and truly express their understanding of Oneness, equality and acceptance. Be a part of a beautiful community of like minded souls that will form to support each other in revealing the inner guru within each of us!
As teachers our mission is to help you dissolve the barriers created between "practice" and "mastery".
  We are One, we already know this… NOW, LET'S LIVE IT!

  All of our classes and workshops are designed to help us take a profound look at the inner self and the conditions of the mind - our goal is to recognize the falseness of these conditions and let them fall away revealing our Ultimate Self.

Celebrate, grow and make new friends in a rare retreat for experienced practitioners & teachers!
I just finished the most wonderful, intense, enriching, life changing advanced Yoga retreat in my life. Jnana Yoga the Yoga of knowledge combined with outstanding heart opening vinyasa, dyana and pranayama. A must for every teacher!

~Steve W.
I was so overwhelmed by the power and love I regained in this amazing program! From sunrise till sunset, from movement of asanas to stillness in meditation, from friends to family, what I've learned and gained is totally unimaginable.

~Felicity L.
During a time of deep personal inquiry and questioning this method calmed me as I was gently led to see beyond the mental noise and right into my own being, my own heart. A beautiful experience!

~Dean H.
Hosted at the sacred place in Ubud where the two rivers converge Svarga Loka offers the ideal location for a non-distracted, quiet and luxuriously immersive experience. From the large shala near the upper pool to the restaurant and spa down on the river you will have all you need in this beautiful oasis. Yogic movement will be full on all week - every morning and evening we will explore the dynamics of different styles and how they help lead the body & mind into the next steps of Yoga. We will teach you how to lead a Holistic Raja Flow to most efficiently lead you to the purpose of Yoga- Samadhi, and you will learn how to better recognize and nurture this experience to dissolve false perceptions and integrate a true identification of your body and mind. Meditation is a primary practice in our program as we examine techniques that allow deeper mindful awareness even when we are awake and engaged with life. Experience the inner peace from a mind free of clutter and the strength that arises through recognizing each thought that passes through your being. Utilizing special techniques of the yogis, elemental medicine to induce trance & deep inner journeys, entrancing sounds of Buddhist tradition and vital breathwork practices you will leave with a strong practice of meditation and much better mindful awareness. Mid-Day Workshops include a dynamic breathwork session, a cacao & sound induced meditative journey and a Myofascial Release workshop all to offer more liberation to the body, heart and mind. On our final day we will visit Tirta Empul, a temple and holy spring where we will engage with the Balinese in the active tradition of purification through water.  Designed to cleanse, purify and rejuvenate your energetic and essence you will release what no longer serves you and refresh your entire being with gratitude and celebration. Integration. All of our practices are aimed at helping you identify the Self beyond the body and mind, and we complete each day with our most potent practice of the immersion -
Jnana Yoga.

During these "conversational meditations" we will explore the mind to identify its misconceptions and work to integrate your belief & knowledge of Oneness more fully into your life. What stands between your belief of Oneness and your ability to respond to every moment with this knowledge? If you are One with All do you recognize your Self in every other person, any other form? Are you engaging with your Self in every moment? You can, and we will teach you methods of correcting your perceptions to transform your mind and open your life to even greater fulfillment and joy!
---
We take special care to create the most amazing experiences for all of our guests and love creating full programs that can truly enrich your life. It's nearly impossible to put the experience into words, but below you can see a list of program highlights, class descriptions, and a sample itinerary!
I felt completely safe and able to surrender completely to this loving experience. No words can really describe the depth of sensations and peace I felt.

~Chazelle O.
I think of these lessons all the time!  My life is changed and I've been brought so much light!
~Susana S.
My goal was to better understand "Oneness" and how to apply it to my every day life, and through this course I gained tools to do exactly that. The methods helped me to experience a lightness and deeper level of peace which helped me to have a clearer understanding of who I truly am.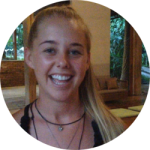 ~Tahli G.
PROGRAM HIGHLIGHTS
 

Initial personal session prior to arrival

Accommodation & 3 Meals/day

Daily Jnana yoga and integration discussions

2 daily Asana & Pranayam classes

Various meditation practices daily

Tibetan bowl meditation & sound journey

Myofascial Release Workshop

Traditional Balinese massage

Shamanic Cacao Ceremony

Onsite Spa Availability

Purification ritual at Tirta Empul holy water temple

Dynamic Pranayam sessions

Conscious Conversation Workshop

Airport and excursion transportation

The full availability of yoga therapists during your entire stay 7am-7pm

MEET THE FACILITATORS HERE!
We're excited to be a part of your journey! If you have questions about the program feel free to schedule a time to sit with us on Skype.